Posted on April 16th 2021 ⋄ By Sara Cleveland ⋄ Category: News
I just wanted to highlight this awesome giveaway on Twitter hosted and organized by the lovely Michele Quirke for #IndieApril. 12 books by 12 awesome Indie authors across multiple genres are up for grabs! Check out Michele's tweet for instructions on how to enter. Winners will be drawn on April 23rd.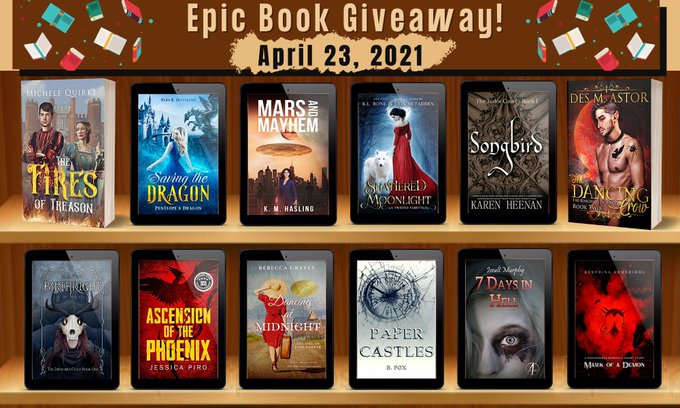 Here's your guide to the books! Please note, I have not read all of these. Some are not within genres that I typically read and/or review. In some cases, I'm guesstimating the genre based on the Amazon indexing and book blurb. I will link my reviews of the books that I have read.
The Fires of Treason by Michele Quirke
Historical Fantasy – Read my Review
Paperback
Saving the Dragon by Sara R Cleveland (that's me!)
Fantasy Romance
Kindle
Mars and Mayhem by K.M. Hasling
Science Fiction
Kindle
Shattered Moonlight by K.L. Bone & Erin McFadden
Fantasy – Twisted Fairytale
Kindle
Songbird by Karen Heenan
Historical Fiction
Kindle
The Dancing Crow by Des M. Astor
Urban Fantasy
Paperback
Birthright by M.A. Vice
Fantasy – Read my Review
Kindle
Ascension of the Phoenix by Jessica Piro
Action/Thriller with Paranormal Themes
My review on this is still pending
Kindle

Dancing at Midnight: The Life of June Parker by Rebecca Graves
Historical Fiction
Kindle
Paper Castles by B. Fox
Contemporary Fiction
Kindle
7 Days in Hell by Iseult Murphy
Horror
Kindle
Mark of a Demon by Despoina Kemeridou
Paranormal Romance
Kindle